WHAT IS IT:
L'Occitane Immortelle Precious Cream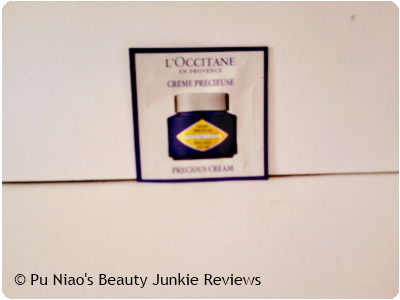 THE PRODUCT(S):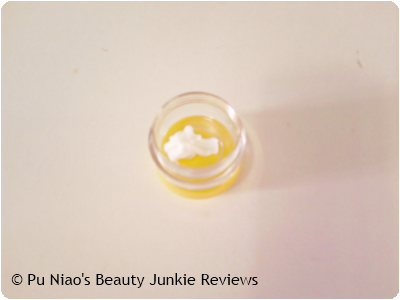 L'Occitane Immortelle Precious Cream:
A creamy moisturizer with anti-aging benefits: Rich and velvety, the Precious Cream is a smooth yet easily absorbed anti-aging treatment. Immortelle essential oil is concentrated into micro-capsules for controlled 24 hours release. For softer skin and a radiant glow Precious Cream can be used in the morning, as a rich moisturizer, or as a night-time treatment.
Like the
L'Occitane Immortelle Precious Serum
, the scent is just as great. However, the good thing about this Precious Cream is that, it's really light and smooth, and it doesn't take long to get absorbed into the skin.
VERDICT:
As mentioned in the previous review, I love the scent of this
Immortelle
range from L'Occitane. It's just o heavenly, it actually helps you envision running through a field of
Immortelle
flowers all around you. Peaceful, thought-provoking moment, and the scent just makes it feels like paradise. The scent isn't really that strong at all, and upon application and contact with your skin, the scent slowly fades a little, occasionally wafting to tease your nose. I dare say I actually slept so much better after sniffing this Precious Cream vigorously before application. Yeah, I am definitely a sucker for product scent. It actually determines how willing are you going to be when it comes to applying them. Smells weird, awkward and off, you would come up with as many reasons as possible to not use them. But if the smell is divine, you are tempted to use them as much as you possibly can.
The texture is really smooth and soft and it actually absorbs pretty fast into the skin, and upon application, you can immediately see your skin looking much more hydrated, moisturized, smoother and softer too. And as mentioned in the title, this is a
Cream
, hence the color is white and acts just like a regular facial cream. And even though I have oily/combination skin, I don't feel like this Precious Cream is too rich for my skin, in fact, it feels just right immediately after application. And the consistency, it's so smooth and creamy, it feels like cream cheese. Spreading onto the skin so smooth and gently without excessive massaging or rubbing in of the cream.
This Precious Cream is the same range as the
Immortelle Precious Serum
by L'Occitane, which is a flower with exceptional longevity a.k.a the flower that never fades even after being picked. And also, this Precious Cream has anti-aging benefits where immortelle essential oil is concentrated into micro-capsules for controlled 24 hour release. This means that even hours or a half day after application, my skin never felt oily nor greasy and there were no side-effects such as redness appearing too. Note that I used the sample kit one sachet at a time, so in other words, I only started on this Precious Cream once I stopped using the Precious Serum.
And after the pimple episode with Precious Serum, I was a little hesitant on carrying on using the Precious Cream sample as I was afraid that a new pimple would popped out somewhere else without warning. And throughout the almost 1 week I was using this Precious Cream, I am really really happy to say that I did not get another new pimple after using it. In fact, once I realized there were no pimple(s) showing up, I actually wished the Precious Cream sample was a little more abundant so I can carry on using it for another week or so.
Despite my T-zone being of the oily variety, my cheeks are rather dry sometimes, so I tend to concentrate more on my cheeks and try to either avoid the T-zone or apply a really really thin and light layer. And my cheeks are loving it!
(Happy cheeks, not Happy Feet, yah~)
Previously, my cheeks tend to be too dry or just looked somewhat okay as I tend to use Tea Tree-based products due to my oily T-zone. And since I was using specific products for my T-zone, I sometimes do get lazy and either literally apply only on my T-zone or just spread the T-zone based products on my cheeks instead. So sometimes, my cheeks looks okay while sometimes, it looks like it need a little more TLC than my T-zone.
I still used my T-zone specific products, but only on my T-zone while at the same time using this Precious Cream on dry areas like my cheek. And I am actually and pleasantly surprised that my cheeks looks so much healthier, with smoother skin, looks much more hydrated and moisturized and it doesn't feel a little too dry to the touch. And that is why I wished I wanted a slightly bigger sample that the sachet I got since my cheeks are loving it like mad. And despite the description claiming that it can be used as a rich moisturizer for daytime usage, I personally don't find it too rich for my dry cheeks. Although it could be just a tad rich on my T-zone. So, if you have dry skin, it will benefit greatly from this light but creamy moisturizer.
VERDICT:
✓✓✓
WHAT I THINK:
Feels like paradise, smells divine. And it does wonders to my dry skin. Love it!!
WHERE TO REDEEM SAMPLE:
I previously got to redeem a sample kit for L'Occitane's Immortelle range last October (2012). Despite this sampling activity being over, L'Occitane has a new sampling activity as of now. Go over to
L'Occitane Singapore Facebook page
at
https://www.facebook.com/loccitane.sg
,
Like
their page as a fan. Next, look for a link that says
Brighten Up Quiz!
to get your hands on their latest Immortelle Brightening Essence and Brightening Moisture Cream in 1ml sample sachets.
For more info, go over to this previous post at
http://puniaogoodies.blogspot.sg/2013/03/samples-receivedredeemed-18-mar-22-mar.html
Why not like my Facebook page at https://www.facebook.com/PuNiaosProductReviews to be informed of latest samples I found, which is duly updated? Also includes updates to contests that I've sourced out for you to join. It will definitely save you the trouble of having to hunt them down :)